UZAZU, Dynamic Embodiment Training with Dylan Newcomb
"Nous sommes trop dans la tête; descendre dans le corps avec la guidance de Dylan est extrêmement puissant.  C'est un maître !"
Learn simple, embodiment practices that quickly connect you more deeply to yourself and to others, and empower you to show up more fully in the flow of life.
Sept 9-10-11 2019, in Paris
This two-day intensive with Embodiment Trainer and UZAZU Dynamic Embodiment founder Dylan Newcomb is a unique opportunity to learn and experience a powerful and imminently 'useful' approach to embodiment.
Dylan's work focuses on helping people answer the 'simple' question: "How is this moment inviting me to show up, and how can my body, mind, and awareness most efficiently and effectively support that in happening?"
Each moment is it's own unique 'stimulus' that invites you to embody a uniquely coherent response. Dynamic Embodiment is about de/re-conditioning yourself more fully available to respond—ease-fully, joyfully, and effectively—to the specific qualities of the present moment.
Through a series of personal, interpersonal and transpersonal embodied form-based exercises, combined with more 'free form' group movement explorations and reflective sharing, this 2-day workshop will give you a core set of embodied principles and practices you can continue to work with and apply in your personal and professional life to experience a simpler, more naturally empowering flow and connectedness to life.
In this two day workshop, you will learn to:
Identify your own embodied preferences for how you tend to hold yourself in space and interact with others. Discover the underlying embodiment patterns that shape your personality and hugely influence the way you engage and experience each moment!
Safely and deeply ground into the felt sense of your own body and effectively care for your various internal feeling states—no matter how intense or 'unpleasant'.
Show up in a way that is more naturally open and authentically expressive, while still being clear and discerning in your Boundaries.
Sense into and attune with Others in a way that naturally leads to making more resonant and meaningful connections. Building on that connectivity, use your bodymind to more gracefully 'stay in the flow' and responsively interact with different people & groups.
Find the force/flow that supports you to engage with Others in more fully participatory and co-creative ways. Move through the judgements and fears that can hold you back from being fully involved in the messiness of co-creating our culture and shared experiences.
Perform a simple 15-minute embodiment practice, modeled on the natural stages of human development, that, when practiced over time, can deeply repattern how you naturally hold your feelings, form your thoughts, and connect with and respond to Others.
Where: Paris France. Amphitheater 83 Bd Arago 75014
When: September 9-10-11, 9:30-17:30 each Day (with a Lunch Break)
Cost: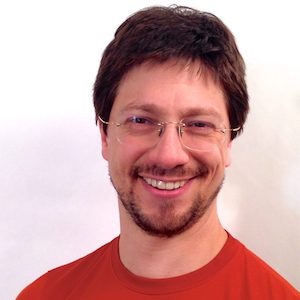 Dylan Newcomb
Dylan Newcomb is a mind-body researcher, coach, teacher, and founder/director of the UZAZU Dynamic Embodiment method. He helps leaders, teachers, conscious entrepreneurs, and cultural creatives of all kinds leverage their mind-body connection to more effortlessly create the kinds of thoughts, emotions and behaviours that allow them to thrive in their personal and professional relationships and turn their inspiring visions into meaningful action.
Dylan spent the first fifteen years of his adulthood as an multi-award winning dancer, choreographer, and composer. He studied dance and music at the prestigious Juilliard School in New York City and danced with the Netherlands Dance Theater. He has lectured and taught at the University of Amsterdam, the Rotterdam Codarts Conservatory, and the Utrecht University, and co-founded the Danslab Institute for Movement Research.
Over the past 15 years, Dylan has taught his unique approach to embodiment, UZAZU Dynamic Embodiment, to over 3,000 students across 4 continents. He also has trained coaches, therapists and group facilitators in how to bring highly targeted embodiment exercises into their practices, and is increasingly recognized as one of the leaders in the space of 'conscious embodiment' work.